The best time to visit Egypt is from October to April, when temperatures are at their most pleasant. However, December and January constitute peak tourist season, and iconic sights like the Pyramids of Giza, the Temples of Luxor, and Abu Simbel can get uncomfortably crowded. Also, this is when rates at Red Sea resorts are at their most expensive.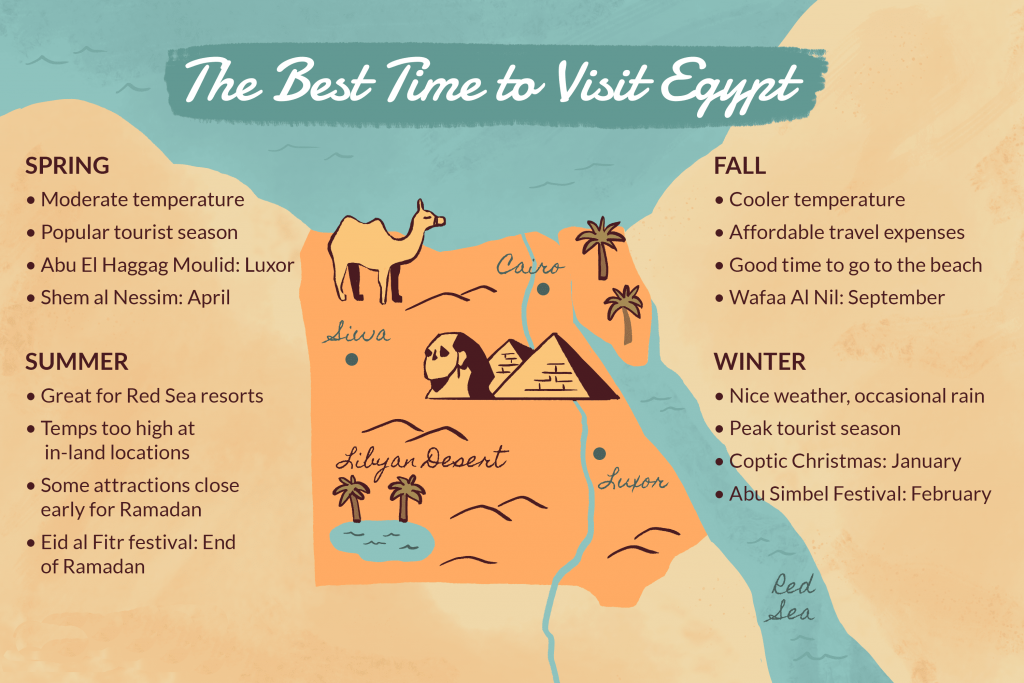 Peak Season
If minimizing expense is a priority, tours and accommodation are often significantly cheaper during the hot shoulder-season months of June and September. Realistically, temperatures in July and August make daytime sight-seeing difficult, although the country's coastal resorts offer some respite from the summer heat.
The Weather in Egypt
For most people; the weather is the crucial factor in deciding when to visit Egypt. The climate is typically hot and sunny throughout the year, and there is very little precipitation south of Cairo.
It is important to remember that many of Egypt's ancient sights are located in desert regions that remain hot despite the proximity of the Nile River. Climbing into an airless tomb on a 100-degree day can be draining, while several top attractions are located in southern Egypt, where it is even hotter than Cairo. If you're planning on visiting Luxor or Aswan from May to October, make sure to avoid the midday heat by planning your sight-seeing for the early morning or late afternoon. Between March and May, the khamsin wind brings thick dust and sandstorms.
Traveling to Egypt During Ramadan
Ramadan is the Muslim holy month of fasting, and the dates change every year according to the dates of the Islamic calendar, but usually fall between the middle of May and the end of June. Tourists are not expected to fast when visiting Egypt during Ramadan. However, shops and banks tend to close for much of the day, while many cafés and restaurants do not open at all during daylight hours. At night, there is a generally festive atmosphere as eating and drinking resume. Toward the end of Ramadan, there are several festivities that are fun to experience and observe.
Spring
Spring is a nice time to visit Egypt, as temperatures are typically quite moderate, but some visitors may want to avoid the "Khamsin wind" season that runs between March and April as it can carry sand and dust in the air. As a shoulder season, prices for hotels will be more reasonable than during winter.
Summer
Temperatures can often be sweltering during the summer, especially in Upper Egypt near Luxor. But traveling during this time has its perk: You can see Egypt without swells of fellow tourists, leaving you in peace at some of the country's most-revered monuments. Ramadan typically falls during the summer months; beware that some attractions may close earlier than usual.
Fall
Like spring, fall brings cooler temperatures and affordable prices. Heat can sometimes last into October, but crowds are still thin, making this a great time to visit popular monuments. If you're planning a visit to the beach, this is a great time of year, as the Mediterranean Sea is still warm and uncrowded.
Winter
While winter can mean nice weather, it's also the high tourist season. Attractions will be more crowded, and hotel prices can skyrocket. There is occasional rain and some cities, like Alexandria, will be quite damp.